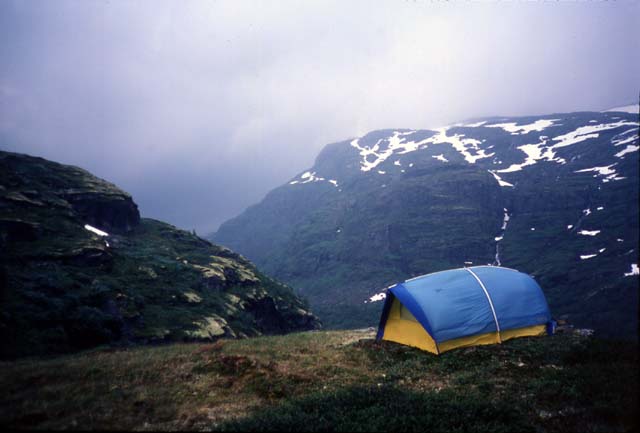 One of the great things about being multilingual is the opportunity to travel to other countries and feel comfortable in your surroundings, even when they are rustic. I have always wanted to visit Northern Europe, but was scared off by the high price tags, at least until someone told me about their camping policies, and how I could get the see the fjords, mountains, and northern lights, without going bankrupt.
It makes no difference where you choose to pitch your family tent in Scandinavia, all of the facilities and various campsites are fantastic in this camper friendly part of the world. In fact, if you are backpacking and can't find one, just unpack your kit on a grassy side of the road and roll out your sleeping bag under the stars. Camping is allowed on all public property in most areas of Scandinavia, so long as you don't leave any trace of your visit when you continue on your journey.
You should first get your Scandinavian camping card if you plan on traveling to many locations, and crossing borders from one Scandinavian nation to another. This allows you access to the best campsites in Northern Europe, including Sweden, Norway, Iceland, Finland and Denmark.
One of the best experiences, if you have the time, is to explore the coastal regions of Scandinavia. The beaches are dotted with fjords, and remnants of the Viking kings that used to rule this land. As you get further north, the days get shorter and the weather colder, but you increase your odds of spotting a whale off the shore, and the dancing Northern lights in the distance. Fishing has long sustained this area, and you are going to find quaint fishing towns up and down all coasts, where friendly residents will welcome your camping spirit. Just be sure to bring your best navigating device so you don't get lost going in and out of all those fjords!
The interior of the Scandinavian countries is also magnificent to explore, with its abundance of long abandoned castles amongst the rolling hills that date back to medieval times. This part of the world is a paradox, with its violent past in a breathtaking tranquil setting. There is no shortage of interesting ancient towns and structures to explore, with places to set up for camping just minutes away.
To get the most of the experience make sure that you bring along a roomy family size tent, warm sleeping bag, flashlight, and a camping stove. Dining out in Scandinavia is notoriously expensive, but you can avoid that by buying groceries along your travels and preparing your own meals.
English speaking people in particular have a bad habit of assuming that no matter where in the world they are, their language will be recognized. This is not the case, especially when you are trading in big hotels and 5 star restaurants for a budget friendly camping experience. This is definitely one of those times when you will appreciate the hard work you put into learning how to speak another language.